Dear Axon community,
we are developing an application based on Axon 4.0 that consists of several aggregates (~15 - 20), some of which are related to each other in 1:n relationships which are expressed as the aggregate identifier of the single-sided aggregate stored in the multi-sided aggregate.
We deliberately have chosen to slice our aggregates in that way due to scalability reasons (to avoid large numbers of events stored to a single aggregate for a hierarchical object graph, see example below)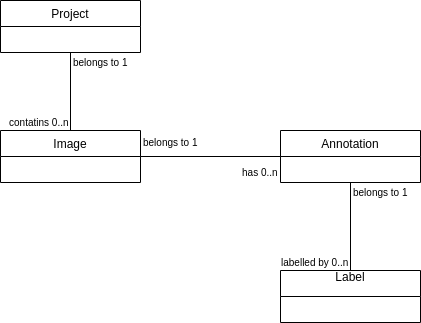 In our domain model a project can have 10s or max 100s of images, an image can have several 1.000s -10.000s of annotations and an annotation can have again several labels.
This way of slicing aggregates works quite well for almost all of our use-cases except cascade-deleting related aggregates along with a parent entity. Deleting a project would mean that we soon would need to mark several 100.000 aggregates deleted simultaneously. While technically we do not see a big problem in cascading the delete operation (e.g. managing the relations as lists of child identifiers directly in the aggregate or in a dedicated command-model that can be used to determine child-aggregate identifiers), we are not quite sure how the axon framework in combination with axon server will react when several parent aggregates are deleted simultaneously, since we expect this operation to create considerable load (100.000s or 1.000.000 of events to process in a very short time).
We would appreciate any thoughts and insights on
a) how you would (or already did) approach cascade deleting of related aggregates differently
b) if we need to take any additional measures to avoid bursts of events or if the axon framework (axon 4.x with axon server community edition) simply can handle this out of the box (which is what I hope and also tend to think from how I got to know the framework up to now)
Thanks and Best Regards,
Jakob