Hi,
We use Axon 4.0 and Spring Boot 2 with Kotlin lang and I have an issue with replying events on error in eventHandler or SagaEventHandler.
It is my application.yml file: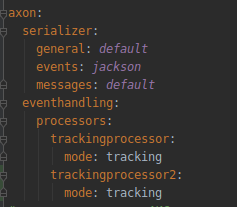 2 tracking processors with different names.
This is one of event handler:

I throw artificial exception for check that tracking works. Let's debug it: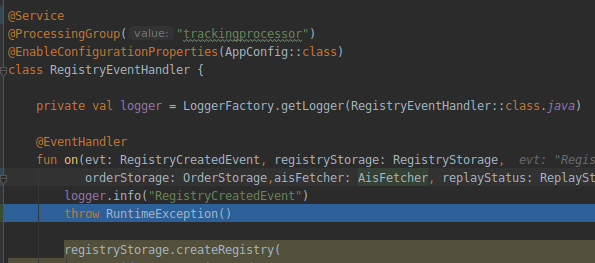 And when I got the event, I see that replayStatus is REGULAR.
When I throw artificial error I expect that it will reproduce event and trigger that eventHandler again after 1,2,4…30, 60 seconds every time. But I can't reproduce it. After throwing exception it will not call handler again.
And I use this code in my config if it is necessary:



P.S. Does it has and issue to migrate from axon 4.0 to 4.2? Or it will be simple and we and our production db will not catch troubles?